The Cardinals will announce today that Manchester City and Chelsea, two of the top teams in the English Premier League, will play an exhibition match at Busch Stadium on May 23, just four days after the close of the EPL season.
Teams don't want to play those matches on artificial turf, which rules out the Edward Jones Dome (and bringing in a temporary grass field is expensive), and the sport has long since outgrown the Soccer Park in Fenton, once the home field of American soccer.
It will be just short of 100 meters long, the minimum allowable length for an international match, which would probably preclude playing World Cup qualifying matches here.
It will also be a tight fit to convert the stadium for soccer, with less than three days to cover up the dirt parts of the field with grass for a Wednesday practice session and the Thursday match after the Cardinals finish a homestand on Sunday.
Though it will be the first soccer game at Busch III, the stadium's predecessor next door, which was built with football in mind, saw plenty of soccer.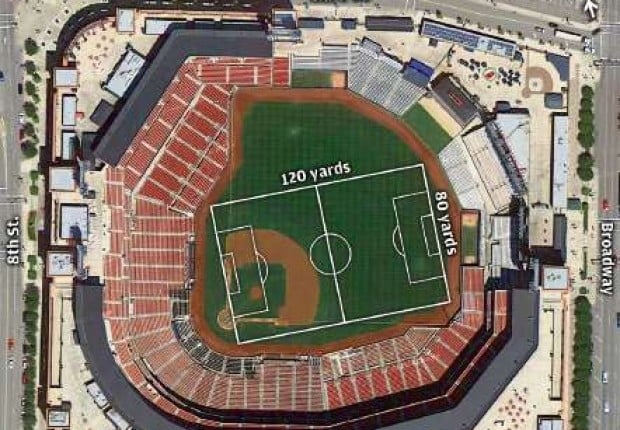 Five of the nine domestic qualifying matches for the 1986 and 1990 World Cups were played in St.
Louis in 1997, for a friendly match with Paraguay, and the women's team was here for a friendly match in the Dome, in 2007.
Other than that, the Kansas City Wizards of Major League Soccer played a Mexican club, Atlas, at Hermann Stadium in 2009 as part of a tournament run by MLS.
All of that is a far cry from Man City and Chelsea, which are battling for second in the EPL, though both have little chance of catching first-place Manchester United, which leads Man City by 15 points with nine matches remaining.
Six players on the clubs also play for England's national team, which has a World Cup qualifying match against Ireland